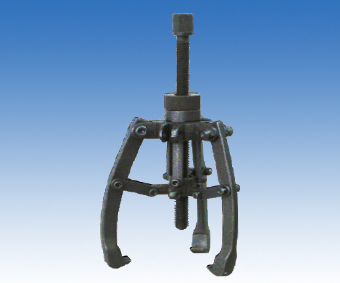 ●The single achieved by rapid synchronization type claw structure, the puller automatic positioningcenter, locked and
fixed on the workpiece.
●The operation of output, is available from 2-10 tons.
●According to the needs of using the environment, the user can choose 3 claw,2 claw or 2/3 claw, to facilitate the
operation.
●Automatic locking claw structure, never loosen, can avoid the high output power use and after the demolition,
appear claw loose phenomenon.
●Claw and claw seat, color with chrome manganese alloy steel, forging and heat treatment and themost reassuring;
provides the user with durable choice.
●The main screw and hook screw, adopting high carbon steel; at the same time grappling hooks,screws, with anti
loose design, won't appear off the situation.
●Automatic center positioning function, can avoid to damage the spindle and the workpiece to beremoved.
Model No.


Capacity
(ton)

Reach

(mm)

Spread

(mm)


Stroke H
(mm)

Jaw Tip(mm)

Wight
(kg)

A

B

C

PM2-120

2

80

120

Ф5/8"×11T

8

6

15

1.6

PM3-180

3

120

140

Ф5/8"×11T

6

7

15

2.3

PM5-270

5

160

270

Ф3/4"×10T

11

10

25

4.3

PM8-300

8

210

300

Ф3/4"×10T

13

14

27

6.1

PM10-380

10

250

380

Ф7/8"×14T

14

10

29

9.6